It can be frustrating trying to find the perfect holster. There are many options and lots of things to keep in consideration. Today I will help you determine what you should consider when shopping for your holster.
IWB VS OWB
The first thing you should consider when buying a holster is your LIFESTYLE. What are you going to be using this holster for? Are you a competitive shooter? Are you a hunter? Are you someone who wants an everyday carry? Answering this question will help you determine whether you need an IWB (Inside the Waistband) or OWB (Outside the Waistband) holster.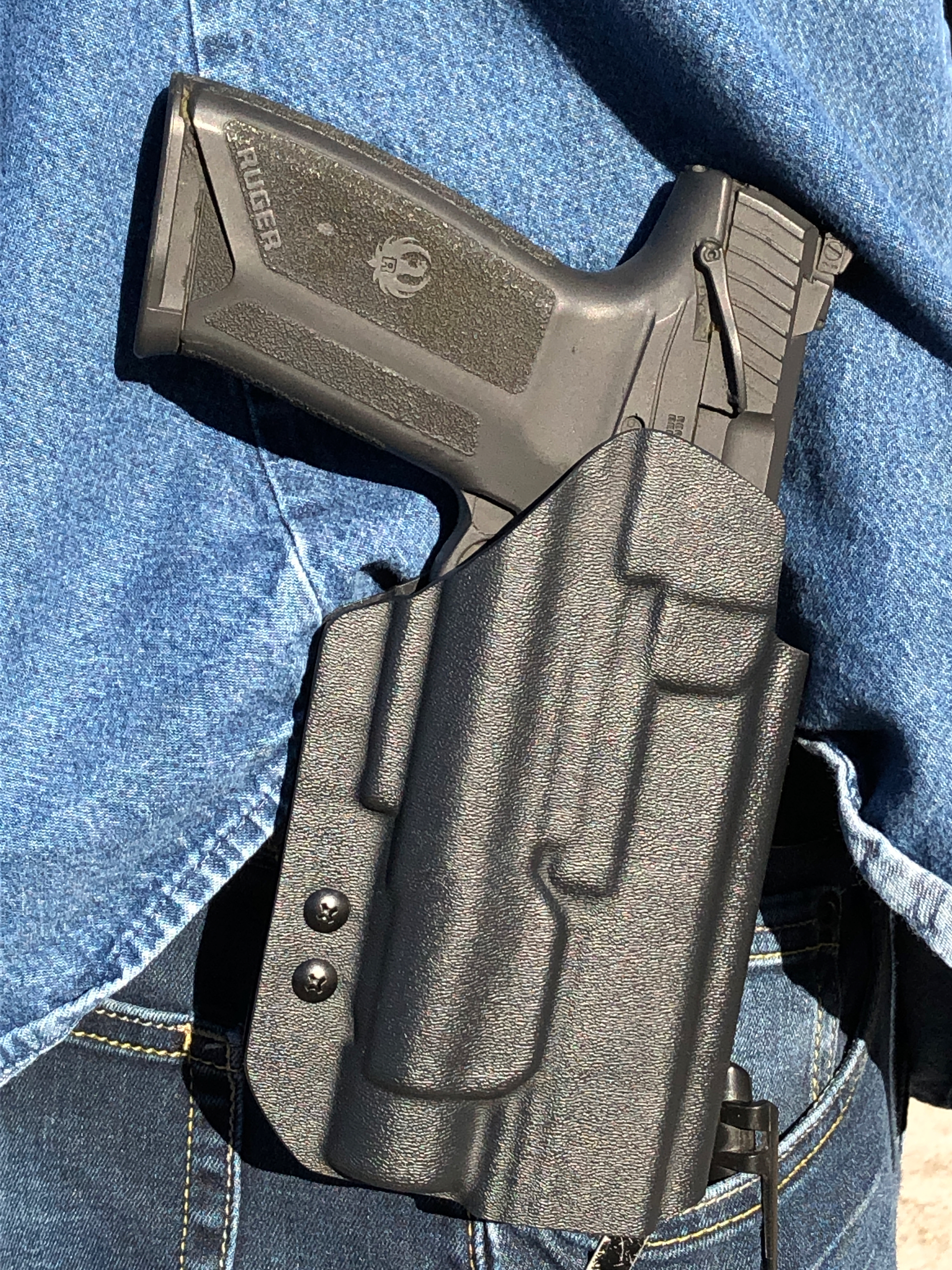 IWB holsters are also known as concealed carry holsters. This style provides maximum concealment behind your belt from an array of carry positions. IWB holsters are less comfortable than OWB, but they serve their purpose by keeping your weapon concealed at all times. OWB, or open carry holsters are built to improve draw time and provide maximum comfort. Open carry holsters can also be hidden with the right clothing. So, between the two styles which one works best for you?
BODY TYPE & WEAPON SIZE
Everybody has a unique body type. You should take your body type into consideration when choosing your holster. If you already own the weapon you're trying to carry, you'll need to consider the physical dimensions of the weapon itself. The difference between a Glock 43x and a Ruger 57 is substantial. I recommend making a simple google search of the pistol you plan on carrying and determine whether the size works for you based on how it looks on others. Generally, you want your weapon to be proportional to your body and always easily accessible from your carry position.
CONSISTENCY
Consistency is key. Your holster should function every time you try to use it. At Skydas, we use our holsters on a daily basis. We know when something is wrong with our holsters and all our holsters are backed by a lifetime warranty. There is no wiggle room for error, if your holster doesn't function perfect every time, get a new one!
Once you find the perfect holster, stick to it and get used to carrying/drawing on a regular basis. You want to completely comfortable in the direst of situations. Work on practicing your draw to start to build that muscle memory.
CONCLUSION
Hunting for the perfect holster can be overwhelming. Use the three considerations and you'll find it much easier to sift through the seemingly never-ending holster offerings. Be sure to check out our offerings and stay up to date with our social media to see our most recent additions and sales!